Book Launch For
The Way Of Being Lost By Victoria Price
Wednesday, February 14, 2018, 7 PM  
Victoria Price, daughter of Vincent Price the actor and author of Vincent Price, A Daughter's Biography, will present her new book, The Way Of Being Lost: A Road Trip to My Truest Self, a memoir of rediscovering joy and purpose after years of struggle  and  rebuilding her life after almost losing everything. Book signing will follow.
 Children's Story Time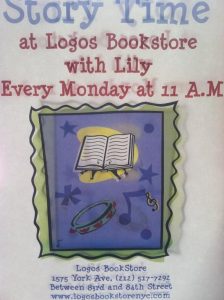 Every Monday at 11:00a.m. with Lily Come Early!
For ages 0-5.
Aside from storytelling, Lily also provides musical entertainment and is available for children's parties.
Logos Bookstore is available for hosting parties.
If interested call Harris at the store, (212) 517-7292
 Kill Your TV Reading Group
Wednesday, February 7, 2018, 7 PM, Burmese Days by George Orwell
Wednesday, March 7, 2018, 7 PM, Mothering Sunday by Graham Swift
Wednesday, April 4, 2018, 7 PM, Stoner by John Williams
20% off most instore purchases
for participants in these groups at the time of
the meetings.
The Sacred Texts Group
An interfaith scholarship community led by Ben Siegel (M.A. in Religion, Hebrew Bible & Ancient Near Eastern Studies, Claremont School of Theology).will study Joshua, Chapter 23, Monday, February 5, 2018, 7 PM and Joshua Chapter 24, Monday, February 19, 2018, 7 PM.
The Logos Bookstore Poetry Group
Thursday, February 22, 2018, The Logos Bookstore Poetry Group will read  aloud from the poetry anthology Best Remembered Poems edited by Martin Gardner starting with the poem Thanatopsis by William Cullen Bryant.