Children's Story Time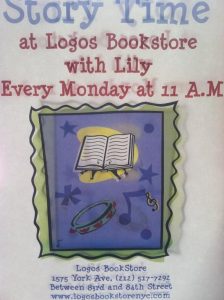 Every Monday at 11:00a.m. with Lily Come Early!
For ages 0-5.
Aside from storytelling, Lily also provides musical entertainment and is available for children's parties.
Logos Bookstore is available for hosting parties.
If interested call Harris at the store,  
 Kill Your TV Reading Group
Wednesday, May 2, 2018, 7 PM, Lincoln In The Bardo by George Saunders
Wednesday, June 6, 2018, 7 PM The Underground Railroad by Colson Whitehead
20% off most instore purchases
for participants in  all these groups at the time of
the meetings.
The Sacred Texts Group
An interfaith scholarship community led by Ben Siegel (M.A. in Religion, Hebrew Bible & Ancient Near Eastern Studies, Claremont School of Theology).will study Genesis, Chapter 3, Monday, April 16, 2018, 7 PM.
The Logos Bookstore Poetry Group
Celebrating National Poetry Month, Thursday, April 26, 2018, 7 PM, The Logos Bookstore Poetry Group will read  aloud from the poetry anthology Best Remembered Poems edited by Martin Gardner starting with the poem Concord Hymn by Ralph Waldo Emerson and will continue reading aloud poems by Eugene Field, Robert Frost and Thomas Gray among others.