Wednesday, June 27, 2018 7 PM,
Pilar Jennings, a pyschoanalyst with a focus on the clinical applications of Buddhist meditation working with patients and their families through the Harlem Family Institute since 2004, professor of psychiatry and religion at Union Theological Seminary will be joined by special guest Regina Jennings, M.S.W. and a pyschotherapist as they talk about their work on loss and healing explored in Pilar Jennings' book, To Heal A Wounded Heart and Regina Jenning's contribution to the book Aids And The New Orphans: Coping With Death edited by Barbara O. Dane and Carol Levine. Books will be available for purchase and being autographed by the authors.
Thursday, June 28, 2018, 7:15-9 PM,
Howard Scherry returns to Logos Bookstore to celebrate Antoine de Saint-Exupery's  birthday on the eve of the actual birthday. Mr. Scherry, who celebrated the 75th anniversary of the publication of The Little Prince with a wonderful talk at Logos Bookstore in April, will talk about Saint-Exupery's other writings like : Wind, Sand And Stars, Flight To Arras, Southern Mail, Wartime Writings, Airman's Odyssey and Night Flight. These books will be available for purchase.
 Children's Story Time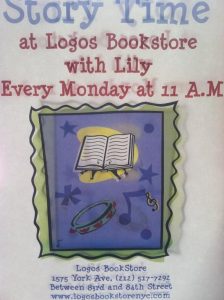 Every Monday at 11:00 a.m. with Lily Come Early!
For ages 0-5.
Aside from storytelling, Lily also provides musical entertainment and is available for children's parties.
Logos Bookstore is available for hosting parties.
If interested call Harris at the store. 
 Kill Your TV Reading Group
Wednesday, July 18, 2018, 7 PM If Beale Street Could Talk by James Baldwin
Wednesday, August 1, 2018, 7 PM, Kidnapped by Robert Louis Stevenson
20% off most instore purchases
for participants in  all these groups at the time of
the meetings.
The Sacred Texts Group
An interfaith scholarship community led by Ben Siegel (M.A. in Religion, Hebrew Bible & Ancient Near Eastern Studies, Claremont School of Theology)has stopped its study of Genesis for the summer. Refer to this website for the Fall schedule of this group.
The Logos Bookstore Poetry Group
Thursday, June 21, 2018, 7 PM, The Logos Bookstore Poetry Group will read  aloud from the poetry anthology Best Remembered Poems edited by Martin Gardner starting with the poem Home by Edgar Guest and will continue reading aloud poems by Sarah Joseph Hale, author of 'Mary Had a Little Lamb", and Oliver Wendell Holmes among others.
ART AT LOGOS BOOKSTORE
Russian artist, Sonia Grineva, graduate of the Stroganov Art Institute, Moscow's leading art school with professors such as Kandinsky among others and winner of a prestigious scholarship to the  British Institute in Florence after studies at the National Academy of Design in New York City is having a show at Logos Bookstore on Wednesday, May 9, 2018 onwards through June.  Sonia has produced countless paintings here in the United States and Italy from the age of 20 onwards and has painted in many different styles. Besides her paintings, her published books, prints, sketchbooks and greeting cards are available for purchase. Come and take a look!