LOGOS BOOKSTORE IS NOW OPEN
MONDAYS-FRIDAYS, 11 AM-8 PM
SATURDAYS 10 AM-7 PM,
SUNDAYS 12 NOON TO 6 PM
WEDNESDAY, OCTOBER 4, 2023, 6 PM, SHISBYE THOMPSON WILL DISCUSS HIS BOOK THE STREET CHURCH MOVEMENT ABOUT THE SHASHRAM, A COMMUNITY OF CHRISTIANS WHO REACH OUT TO THE WOMEN WHO LIVE ON GB STREET, NEW DELHI'S RED LIGHT DISTRICT. BOOKS ARE AVAILABLE FOR PURCHASE.
ALL RELIGIOUS BOOKS, ALL MUSICAL CDS AND CASSETTES OF ALL KINDS, ALL AUDIOS AND VIDEOS ARE NOW 25 % OFF.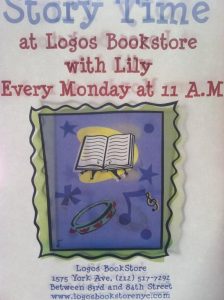 Every Monday at 3 PM. Children's Musical Story Tme with Lily. Come Early!

For ages 0-5.
Aside from storytelling, Lily also provides musical entertainment and is available for children's parties. Email Lily at lilyrose1993@yahoo.com or call her at 917-825-0285 to find out whether Children's Musical Story Time will be held at Carl Schurz Park or Logos Bookstore.

Logos Bookstore is available for hosting parties.

If interested call Harris at the store
(212) 517-7292.
Kill Your TV Reading Group
Wednesday, October 18, 2023, 6 PM, KYTV will discuss The Hitchhiker's Guide To The Galaxy by Douglas Adams.
20% off most in-store purchases
for participants in all these groups at the time of the meetings.
The Sacred Texts Group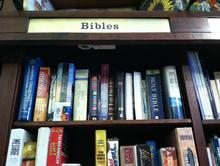 An interfaith group dedicated to the study of religious texts. Future programs will be listed here.
The Logos Bookstore Poetry Group
Further poetry read aloud sessions for this group will be listed here.
ART AT LOGOS BOOKSTORE
Russian artist, Sonia Grineva, graduate of the Stroganov Art Institute, Moscow's leading art school with professors such as Kandinsky among others and winner of a prestigious scholarship to the British Institute in Florence after studies at the National Academy of Design in New York City is having a show at Logos Bookstore. Sonia has produced countless paintings here in the United States and Italy from the age of 20 onwards and has painted in many different styles. Besides her paintings, her published books, prints, sketchbooks and greeting cards are available for purchase. Come and take a look! Also click here for instagram.com/sonia_at_logos